St.Francis of Assisi Parish


Flocknote News: To Keep in touch with us Text SFABS to 84576 – Or on line at sfoabarresouth.flocknote.com. There is a Icon
next to Facebook.
This way we can reach-out to you with Lenten resources and more…


Save the Date
Fall Festival ▪ October 1st
A Day to Celebrate
Father Jamie



This Special Parish Event

will need lots of Parishioner Support
Please reach out to Mary Ann Jordan or any member of The
Women's Guild to learn how you can help celebrate Fr. Jamie!

"Then I heard the voice of the Lord, saying, "Whom shall I send, and
who will go for Us?" Then I said, "Here am I. Send me!" Isaiah 6:8

From the March 31, 2023 Edition of The Catholic Free Press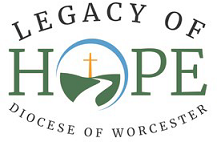 Come June we will be half way through our pledges for the Legacy of Hope – we want to say Thank You for honoring your pledges.
Due to the Legacy of Hope the parish has been able to paint the church, garage and repair the steeple at St. Thomas Church. At St. Joseph's Chapel the windows were both repaired and painted before new storm windows were put in place. The only project left is the driveway at St. Thomas.
This is all Great News, but we are not meeting the weekly budget and just like everyone else our expenses like electricity, and heating oil are increasing. So we are respectfully asking that you pray on this parish dilemma and see if you could increase your weekly contributions. Perhaps sign up for on-line giving so if you are out of town you can still contribute to your parish.
The direct link for on-line giving is
https://giving.parishsoft.com/app/giving/ps-234




Register Now for the WORCESTER CATHOLIC WOMEN'S CONFERENCE
All Women are Invited to this Exciting Conference, "Male & Female He Created Them" to be held at St. Joseph School in Webster, MA on Saturday, October 7th. Hear dynamic talks from outstanding Catholic leaders, Dr. Deborah Savage, Dr. Christopher Klofft, Fr. Derek Mobilio, Fr. Colin Blatchford, and Patricia Sandoval. Diocesan and religious priests will hear confessions and there will be many interesting exhibitors. Bishop McManus will celebrate Mass. For more information and to register, visit our website at www.wcwconference.com or call Corinn Dahm at

508-277-3969

.


At the beginning of Lent our parish participated in exploring this book through the program "The Best Lent Ever 2023" by trying to recognize and create Holy Moments. Paul will take us on a journey of self-discovery and transformation. Whether you're seeking personal growth or spiritual enlightenment, "Holy Moments" will provide you with the tools to live a more joyful and meaningful life. All are invited to attend this event whether you have read the book or not all are welcome.
We still have free copies available at both churches
Pick Up Your Copy Today You will be Glad You Did!




Next Meeting ▪ Mon. June 19th ▪ 6:30pm
St. Joseph's Hall
New Members are Always Welcome!
If you would like the opportunity to be
involved in any of our parish support
efforts, please contact Mary Ann Jordan
via email at mjordan@gmail.com
or via phone/text at 978.808.3371



We are very pleased to announce that our parish donated a total of $1,633. 40 to
Visitation House for the Care and Support of Both Mothers and Babies. Thank You!

Visitation House helps both Mothers and Babies to survive and thrive.
Online donations may be made at www.visitationhouse.org.
Click on Donate by Parish for Baby Bottle Drive. Find our Parish and Make Your Donation.
Visitation House is a 501©(3) nonprofit and as such is tax deductible as it receives no federal or state funding. It is solely supported by donations.






Thanks to all our parishioners who have made their gift to the
2023 Partners in Charity Appeal
As of May 19
St Francis of Assisi Parish is at 75% of our goal of $25,000
We have donated $18,881.00

If you have not yet made a gift or pledge, please fill out a commitment pledge
envelope located in the vestibule or visit www.partners-charity.net to do it online.
Through your generous support we are able to serve thousands of families and individuals
in Worcester County through outreach, formation, evangelization and worship!

Watch the Appeal Video at Home this Week at www.partners-charity.net to see Faith in Action! If you have already made a gift to the 2023 appeal, we THANK YOU. Your gift will help us in reaching our parish goal. You can also make your gift at
www.partner-charity.net

It is an inspiration for all of us to know that when we support the Annual Partners in Charity Appeal we help thousands in need throughout Worcester County.
You share in the joy in bringing hope into the lives of those we serve. Text Giving is an easy and secure way to give.
You can make a gift to Partners in Charity in seconds and St. Francis of Assisi will receive credit!
Simply Text the word DONATE to 84575

Daily mass . Monday, Tuesday & Wednesday
9AM . St. Thomas A Becket Daily Masses are canceled when school is delayed/canceled due to weather
Please remember St. Francis of Assisi Parish has an Emergency Fund* to help those in need.
If you as a parishioner, or if you know of anyone in the Barre/Oakham area that may need assistance please call the Parish Office at 978-355-2228 and leave a message for
Deacon Scott at Ext. 3.
All inquiries are strictly confidential.
BEREAVEMENT COMMITTEE
The Women's Guild Bereavement Committee will be re-organizing so that once again we will be able to offer lunches for families at a time of loss. These lunches take a lot planning and co-ordination, so a lot of help is needed!

The lunch menu consists of a selection of four filled sandwiches, fruit cup, relish tray, chips baked goods and coffee for a cost of $5.00 per plate.

We will be looking for donations of fillings, of egg salad, tuna salad, ham salad or turkey salad, baked goods, and kitchen help on the day of the event.

If you are able to help in any of these areas, please sign up with your name, phone number and indicate the areas where you could help. Sign up sheets are in the back of the church. Thank you!


In October of 2023, Pope Francis will convene in Rome the XVI Ordinary General Assembly of the Synod of Bishops to examine the topic: "For a Synodal Church: Communion, Participation and Mission." The Holy Father has asked every diocese in the world to provide input for that synod.
The Diocese of Worcester has developed website resources at worcesterdiocese.org/Synod-2023 that cover the following:
• What is a synod?
• What have previous Synods focused on?
• What is synodality?
• Local input efforts in the Diocese of Worcester for Synod 2023
• Examples of Local Consultative Experiences
The Synod preparatory documents acknowledge the difficulties of convening consultative groups in the time of a pandemic. We will not be convening a large Diocesan wide gathering but ask each parish to solicit input through means each pastor judges most effective given parish circumstances and capabilities. Those means can include physical or virtual gathering(s) of parishioners or simply sharing the link to the Individual survey in bulletins or by Flocknote.
We have two online survey response tools which are on the website and accessible with the buttons below. The Group Survey will capture the results of in person or virtual gathering using the pdf below to facilitate the meeting. The Individual Survey can be shared with parishioners via the bulletin, parish website or Flocknote in lieu of gatherings.
A group facilitator can print the questionnaire Here to lead discussions and then input the group responses on the online GROUP survey on behalf of the group

Photo's of St. Joesph & St.Thomas Becket courtesy of https://statues.vanderkrogt.net

Church of St.Thomas-a-Becket and St. Joseph Chapel Are Wheelchair Accessible
Diocese of Worcester ©Copyright St.Francis of Assisi Parish 2013-2023. All rights reserved.
398 Vernon Ave., P.O. Box 186 South Barre, MA 01074
fax

(978) 355-0042

• Office phone

(978) 355-2228